Expand your Homicide Division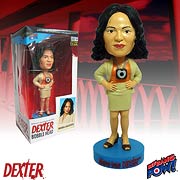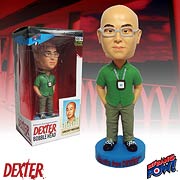 Hey gang, Jason here to brighten your day and bring you great 'Dexter' news. We're adding to our ever popular 'Dexter' bobble head line, with two more characters from the Miami Police Homicide Division:
Lt. Maria LaGuerta
and
Vincent Masuka
! That's right, the toughest division head and the creepiest lab tech on the force are now available for pre order, and they're going fast! Since you already have the rest of the characters (you do, don't you? What?? Well what are you waiting for?), it'd be silly not to get these two new beauties. Both have all the detail you'd expect from Bif Bang Pow!, and have been personally approved by the actors themselves. So grab 'em while they're hot! Then get 'em home, and pretend that Masuka says something completely inappropriate to LaGuerta, and gets bopped on the bobble. Ahhh, playtime with 'Dexter'. Such fun!